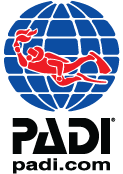 Pirate Cove is a member of PIRA (PADI International Resort Association). Our sister company, called Caño Divers, exclusively handles the diving for Pirate Cove.
At Caño Island you will encounter both pelagic (open ocean) and Pacific reef fish. Many species are the same as in the Galapagos Islands. If you like sharks you will see 2-meter long white tipped reef sharks, bull sharks and very occasionally hammerheads.
Depending on the time of year we see humpbacks, Orcas and pilot whales. Dolphins include Pacific spotted, bottlenose and spinners.
It is not uncommon to see manta rays leaping from the water and hundreds of lesser devil rays regularly pass by. There are too many other fish to list here but many divers especially enjoy meeting the free-swimming moray eels, which are often 2-meters long.
Dive Sites in Drake Bay, Osa Peninsula: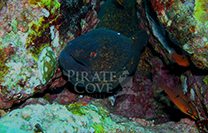 Barco Hundido (Sunken Ship)
Depth: 15-20 meters (50-70 feet)
Skill level: Beginner
We've never found a sunken ship here. This is a calm dive among various rock formations. If you stay in one spot the fish come and go. Generally you find sharks, mantas, Moorish idols and other smaller fish but also some good-sized schools pass through. This is a wonderful spot for underwater photography.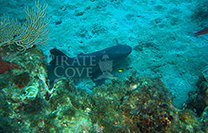 Bajo del Diablo (Devil's Pinnacle)
Depth: 15-40 meters (45-130 feet)
Skill level: Intermediate
The waters at the pinnacle and surrounding canyons are populated with jacks, snappers, barracudas, puffers, parrotfish, moray eels and sharks (bull sharks occasionally at greater depths). Often giant schools arrive. This is one hell of a dive but sometimes there is fairly strong current.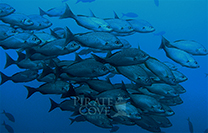 Paraiso (Paradise)
Depth: 20 meters (60 feet)
Skill level: Intermediate
This is a place where enormous schools of jacks, snappers, and barracudas often pass by. You could find yourself in the midst of thousands of fish. And if you're really lucky you may witness the arrival of 20-30 sharks who like to party. You may think you've died and gone to heaven!
We will do the first dive in the Island then we will rest in the beach of the Island and drink water. Then we will do the second dive, after that we will have the lunch in Hotel Pirate Cove.
Tour Information:
Duration: 6 hours
Departure time: 7:00am
Return Time: 12:30md - 1:00pm
Includes: Rent of equipment, 2 dives, PADI instructor, transport from Drake Bay, entrances fees, lunch.
NOTE: Dear visitors of Caño Island, Considering the information given by the Health Ministery and Osa Conservation Area , it is allow to arrive to the land part of Caño Island Biological Reseve. The island doesn´t have toilets and it is not allowed to eat in there. It is not allow to walk in the trails.
Smoking is prohibited.
Since January 10, 2013, the Goverment is very strict with the limits in the Park, the reservations need to be in advance. If you are interested in the diving tour please let us know in order to do the reservation with the Goverment.